Kia Ora Tower for Bucketts Radio On It's Way
Saturday 30 Apr, 2022
Thanks to federal government funding through Community Broadcasting Foundation and the generosity of the local community through fundraising events, Bucketts Radio is well on the way to expanding the broadcast reach by installing a transmitter on Kia Ora hill.
Keep your eyes peeled for updates on the project.
Raise the Tower [POSTPONED]
Tuesday 20 Jul, 2021
Bucketts Radio, in conjunction with the Gloucester School of Arts and Gacci, are holding a fundraising concert.
Saturday 18th September [Postponed - new date Saturday 12th February 2022]
Get your tickets today.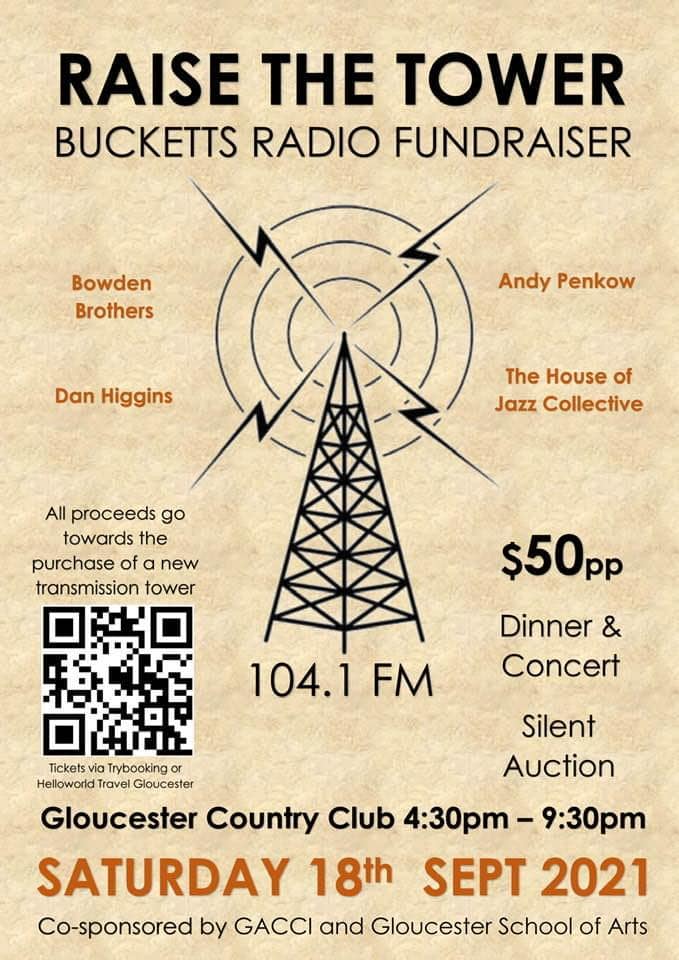 Local News Podcast 21 Feb 2021
Sunday 21 Feb, 2021
Listen HERE to the local news podcast with Anita Jackson.  Heard daily at 8.30am and 3.30pm on Bucketts Radio 104.1FM.
Local News Podcast 14 Feb 2021
Saturday 20 Feb, 2021
Listen HERE to the Local News Podcast with Anita Jackson.
Local News Podcast 7 Feb 2021
Friday 12 Feb, 2021
Listen HERE to the local news with Anita Jackson
Local News Podcast 31 Jan 2021
Tuesday 2 Feb, 2021
Listen HERE to the local news with Anita Jackson