Homelessness Week is August 1 - 7 - Day 1
Sunday 31 Jul, 2022
This Week is Homelessness Week and Amber Galvin is the Connections Program Office at Bucketts Way Neighbourhood Group and she talks about Homelessness and services that are available. Listen to Interview Here.
Bucketts Radio Newsletter May 2022
Wednesday 25 May, 2022
After a long break we are very happy to be sending out this newsletter keeping you up-to-date with what has been happening at the station over the past year or so.  We'd welcome any feedback.
We would also welcome any new members and those who think they may have some time to spare to lend a hand.  There are so many different ways to become involved within the station 'family'.  Announcing is always fun as you will read from the newsletter, but there is more to running the station than that.  Technical and marketing expertise are just two more ways to get involved.
Download your PDF copy of the newsletter here, or copy and paste the URL below into your browser.
http://buckettsradio.com.au/content/suploads/684fa538ba705f1120482561a1a03b34/Newsletter-Bucketts-Radio-May-2022-newsletter.pdf
Kia Ora Tower for Bucketts Radio On It's Way
Saturday 30 Apr, 2022
Thanks to federal government funding through Community Broadcasting Foundation and the generosity of the local community through fundraising events, Bucketts Radio is well on the way to expanding the broadcast reach by installing a transmitter on Kia Ora hill.
Keep your eyes peeled for updates on the project.
Raise the Tower [POSTPONED]
Tuesday 20 Jul, 2021
Bucketts Radio, in conjunction with the Gloucester School of Arts and Gacci, are holding a fundraising concert.
Saturday 18th September [Postponed - new date Saturday 12th February 2022]
Get your tickets today.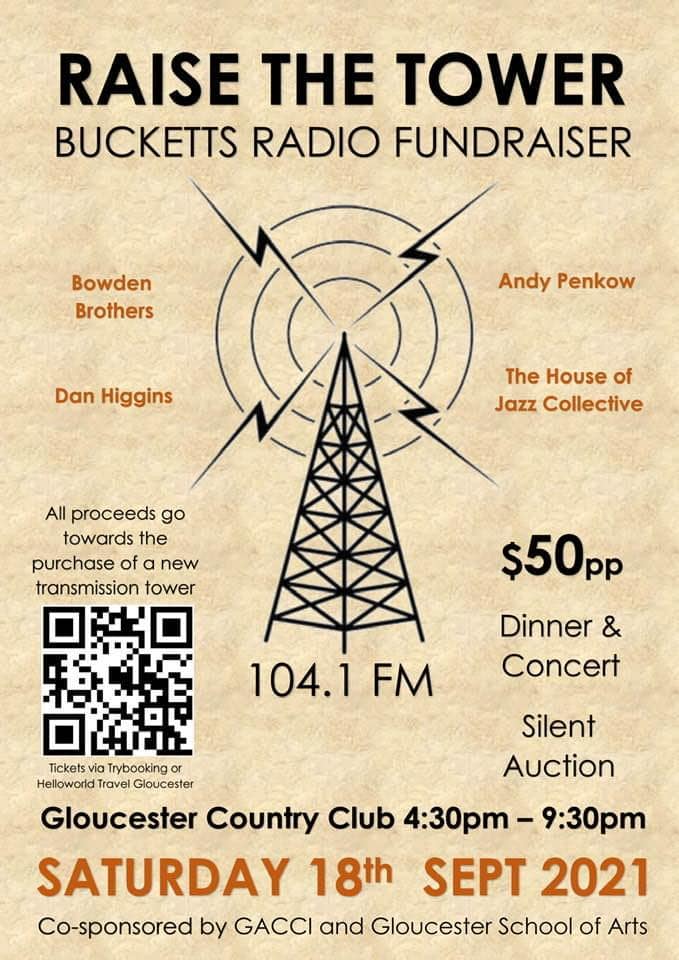 Local News Podcast 21 Feb 2021
Sunday 21 Feb, 2021
Listen HERE to the local news podcast with Anita Jackson.  Heard daily at 8.30am and 3.30pm on Bucketts Radio 104.1FM.
Local News Podcast 14 Feb 2021
Saturday 20 Feb, 2021
Listen HERE to the Local News Podcast with Anita Jackson.